The changes of Los Angles International Airport pick up location has been effective since Halloween this year. Based on new rules of LAWA, transportation networking companies (TNCs) and taxicabs has new pick up location while the drop off still remains at the terminal curbs on the Upper/Departures Level.
Pick up location for luxury ground transportation operators and TCP-licensed commercial for-hire vehicles has a minimal change according to Mark Stewart, the Legislative-Airport Committee Chairman and a board director of the Greater California Livery Association. Basically, with some patience and planning, drivers of regional chauffeured-luxury ground transportation industry can continue picking up arriving passengers on the lower-level CTA loop using ONLY Arrivals level outer curb islands and use of inner lane is strongly prohibited.
To improve traffic at LAX, LAWA has reported an airport construction project, formally called Landside Access Modernization Program (LAMP) that will provide Automated People Mover trains with delivery date of 2023. In the meantime, the new pick up only location has been considered for passengers of ride apps such as Lyft, Uber and Opoli and taxi companies known as LAX-it. LAX-it is located just east of Terminal 1, at the corner of World Way and Sky Way and it's only 3 minutes walk from Terminal 1 and 8 minutes walk from Terminal 2, 7, and 8. Additional amenities, such as restrooms, benches, umbrellas for sunny/rainy days and even local food trucks have been considered for LAX-it as well as staff providing on site passenger assistance, lane management and shuttle loading areas.
According to Stewart and airport advisories, the new guidelines to access LAX Airport for operators are as follows:
Limo/livery vehicles can still drop off passengers anywhere along the upper departure loop as usual.

Lower/arrivals level passenger drop-off/pickups will be relocated to the outer island curb. Inner lane access is prohibited. Zones will be identified by overhead signage and white painted curbs.

Limo/livery vehicles will need to share the arrival level outer curb with other TCP-licensed commercial vehicles, private vehicles from the general public, and rental motorcoach services such as FlyAway buses.

Chauffeurs will continue to be able to park their vehicles on lower levels of CTA parking decks and walk into the baggage claim areas to greet passengers and walk them back out to the vehicles. The only exceptions will be if certain parking decks are fully or partially closed at intermittent periods of construction, Stewart said.

Limo/livery services where a chauffeur waiting in the limo holding lot and arriving client text each other to arrange a curbside pick-up may encounter delays if pick-up space is limited during heavy traffic periods.

Martin Romjue – September 30, 2019 – LAX To Rework Ground Transportation Patterns Oct. 29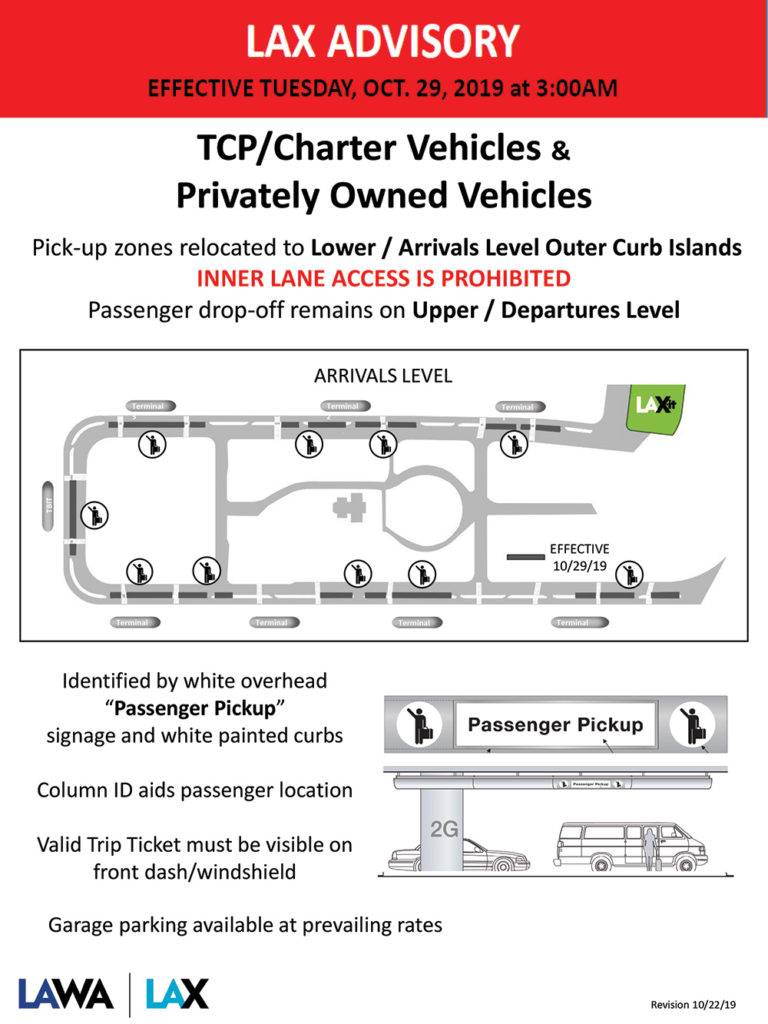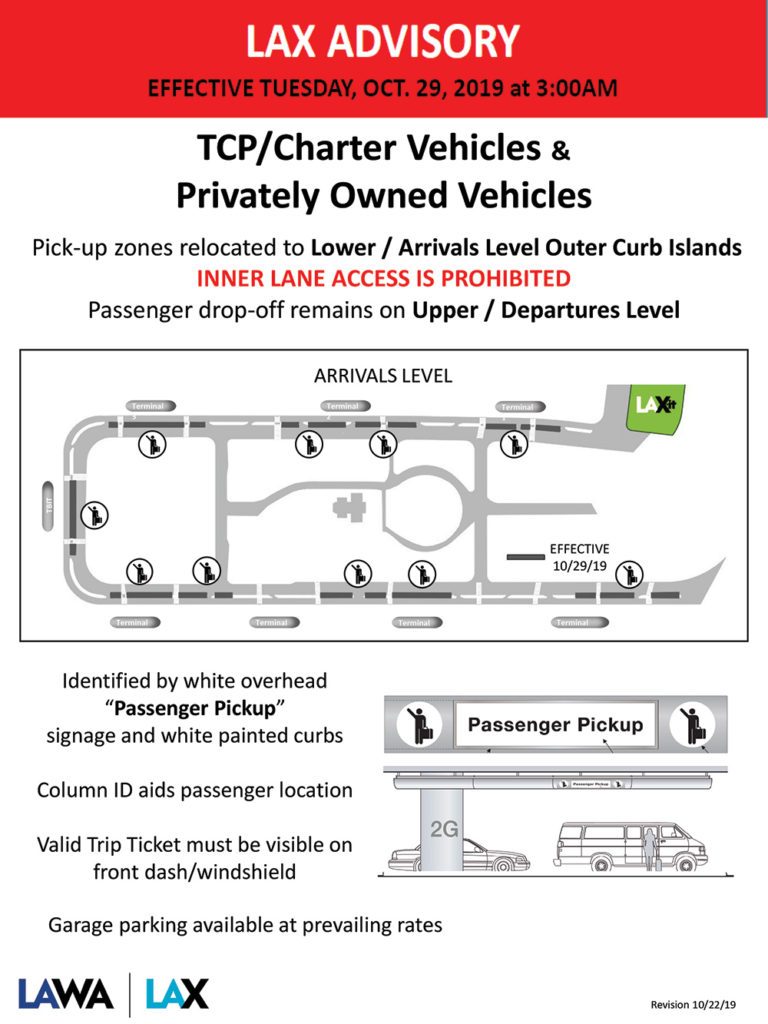 LAX VIP TRANSPORT will do its best to offer a comfortable rides with professional chauffeurs and peace of mind routes. Sit back, relax and enjoy your luxury ride with us!